Knoll Chair
SHIPPING
Shipping cost is 10% of the product price
Learn More
Shipping Info
We offer shipping to the lower 48 states. Shipping cost is 10% of the product price.
RETURNS
Free 30-day returns
Learn More
Returns Info
We offer free 30-day returns to customers in the 48 contiguous United States. We created this policy as part of our ongoing effort to provide a hassle-free shopping experience, enabling you to transform your living space into your own personal showroom, and try your favorite design in the comfort of your own home before making a long-term commitment. Please note that not all products are eligible for free returns. To see whether a product is eligible go to the product details section of the product page.
WARRANTY
10 years warranty
Learn More
Warranty Info
One of the reasons you might be shopping with us is that you recognise the superior quality of our pieces. And just as we want our furniture to be the best you can find, we want our promise to you to be equally superior. That's why, while most furniture manufacturers only offer a 1 year warranty, we offer a 10 year warranty. Please go to https://interioricons.com/pages/terms to read the full warranty policy.
The Finer Details
The perfect addition to retro or modern spaces, this Florence Knoll contribution is minimalistic yet striking in its design. Comfortable, versatile, and aesthetically pleasing, this contemporary chair is a work of functional art.
This item is not manufactured by or affiliated with the original designer(s) and associated parties.
Product Dimensions:

H31.9 in x W32.1 in x D31.9 in

Product Weight:

65.5 lbs

Material:

Danish cashmere wool

SKU:

1113

Base Material:

Polished #304 grade stainless steel

Seat Height:

17.1 in

Seat Depth:

20.9 in

Armrest Height:

23.6 in

Cushion Information:

All back and bottom cushions are attached with velcro and removable

Assembly Requirements:

None required, it comes fully assembled

Packaging Dimensions:

(72.8 lbs): 34.6 in x 33.9 in x 26.8 in

No. of Cartons:

1

Free Return Shipping:

No
Luxury meets comfort
American designer Florence Knoll was intent on creating furniture that was practical as well as beautiful. Her armchair strikes the perfect balance of form and functionality.
Beyond the basics
Although Knoll's designs are often referred to as modest, the designer's contributions are anything but basic. Her ability to blend a minimalistic aesthetic with a complex design process is evident in this popular seating solution.
A woman ahead of her time
Florence Knoll is an inspiration to many. She was able to transform her design concepts into popular furnishings that now grace homes and offices around the globe.
Interior Icons vs Traditional Retail
By cutting out the middle men and traditional 200-400% markup, we're able to offer you beautiful, lasting designer furniture at exceptional value.
Inspired by
Florence Knoll
Before becoming a renowned architect and furniture designer, Florence Knoll studied under Mies van der Rohe and Eliel Saarinen. The American innovator then became a protégé of Eliel's son, Eero Saarinen, and went on to marry modern furniture manufacturer, Hans Knoll. Together, the two founded Knoll Associates with a goal of revolutionising interior space planning.
The married duo believed in "total design," embracing interior design, architecture, manufacturing, textiles, graphics, advertising, and presentation as a whole.
Florence sought out to solve space problems in office environments, which she accomplished in spades. In the '50s, her ideas began to change the previous practices in many offices. Her space-saving innovations continue to be used today.
Knoll has been rewarded for her designs, even receiving the National Endowment for the Arts' esteemed National Medal of Arts in 2002.
Customer Reviews
Customer Reviews
Write a Review
Ask a Question
07/22/2020
Christie P.
United States
Knoll style chair and sofas
My husband and purchased (2) 2 seater actual Knoll sofas about 8 years ago. We paid a lot of money for these pieces. When I discovered online Interior Icons and saw their Knoll style chair and sofas I was intrigued .... finally decided to dare make the plunge. We couldn't be more satisfied. The furniture has the same firm yet comfortable look and feel as the original for far less the price. Thank you Interior Icons!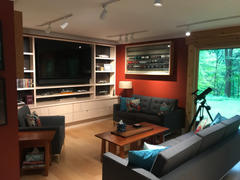 Such a thoughtful gift! My ...
Such a thoughtful gift! My husband bought me one of these chairs, as I wanted an alternative to the sofa. I am so enamored with it. I have been using it instead of the sofa every since it arrived.
I'm so glad I found ...
I'm so glad I found these chairs on your website! I bought them along with one of the 3-seater sofas you offer. Everything is beautiful and comfortable.
This is a luxurious chair. ...
This is a luxurious chair. It's comfortable and beautiful--the perfect combo!
Beautiful furniture! Your prices are ...
Beautiful furniture! Your prices are great. I prefer shopping here over a furniture store any day. Buying furniture can be exhausting, but this is actually fun!