Tulip Chair
SHIPPING
Shipping cost is 10% of the product price
Learn More
Shipping Info
We offer shipping to the lower 48 states. Shipping cost is 10% of the product price.
RETURNS
Free 30-day returns
Learn More
Returns Info
We offer free 30-day returns to customers in the 48 contiguous United States. We created this policy as part of our ongoing effort to provide a hassle-free shopping experience, enabling you to transform your living space into your own personal showroom, and try your favorite design in the comfort of your own home before making a long-term commitment. Please note that not all products are eligible for free returns. To see whether a product is eligible go to the product details section of the product page.
WARRANTY
10 years warranty
Learn More
Warranty Info
One of the reasons you might be shopping with us is that you recognise the superior quality of our pieces. And just as we want our furniture to be the best you can find, we want our promise to you to be equally superior. That's why, while most furniture manufacturers only offer a 1 year warranty, we offer a 10 year warranty. Please go to https://interioricons.com/pages/terms to read the full warranty policy.
The Finer Details
Intent on designing an alternative to the customary four-legged chair, famous architect and furniture designer Eero Saarinen created the world's very first one-legged chair, in turn revolutionizing the design world. Naming it the Tulip Chair, due to its sleek, curved body, the designer first introduced this groundbreaking seating solution in the late 1950s as part of the Pedestal Collection. The series was instantly popular and remains so to this day.
This item is not manufactured by or affiliated with the original designer(s) and associated parties.
Product Dimensions:

H32 in x W26 in x D20 in (the base is 17.3 in diameter and 15 in height)

Product Weight:

15 lbs

Features:

The chair swivels 360°

Material:

The shell is polypropylene and cushion is Danish cashmere wool

SKU:

1026

Base Material:

Aluminum

Seat Height:

19.3 in (inc. 1.8 in cushion)

Assembly Requirements:

The seat needs to be screwed onto the base

Tools & Fixings Included:

Yes

Packaging Dimensions:

(16.8 lbs): 26.4 in x 22.4 in x 20.5 in

No. of Cartons:

1

Other Information:

The cushions use approx. 0.88 yardage (in case you wish you re-cover them in your favorite fabric)

Free Return Shipping:

Yes
A standout seating solution
Ideal as a standalone piece, or the perfect complement to the coordinating Tulip Table, this iconic design can be found in homes and businesses around the world. As a bestselling piece of the wildly popular collection, the Tulip Armchair is sleek, sophisticated and comfortable. Saarinen didn't just perfect the chair's form; he also prioritized function and comfortability.
Constructed with care
Crafted from sleek polypropylene, hardwearing aluminum, and featuring a popular swivel feature, this chair is built for regular, long-term use.
Create your perfect room
As part of the Pedestal Collection, Saarinen crafted several aesthetically pleasing, versatile furnishings that complement one another. The series includes chairs with coordinating cushions, a round dining table, and a scaled down side table. We invite you to mix and match all of these items to create a room that perfectly suits your personal style.
Interior Icons vs Traditional Retail
By cutting out the middle men and traditional 200-400% markup, we're able to offer you beautiful, lasting designer furniture at exceptional value.
Inspired by
Eero Saarinen
Eero Saarinen's penchant for perfection made him an impeccable designer. The Finnish-American architect opted for a sculptural approach when it came to his furniture designs. The aesthetic worked for him, a he grew obsessed with achieving the perfect curve or line.
Saarinen's design process was a long and tedious one. He was so tuned into the details that he'd build hundreds of versions of a piece until it was visually and functionally flawless. The designer's time was certainly not wasted; his innovative designs include the iconic Tulip Armchair, the Tulip Table and the Womb Chair.
Envisioning the placement of a piece proved to be a key to Saarinen's great success. "Always design a thing by considering it in its next larger context - a chair in a room, a room in a house, a house in an environment, an environment in a city plan," he once said.
Customer Reviews
Customer Reviews
Write a Review
Ask a Question
07/27/2020
Nathan C.
United States
Exact shape match to the original Knoll chair.
I have the actual Knoll Saarinen (with label, from the 60's) version of these chairs in great shape. My original has turned to an almond color over the years, and these new chairs are a bright white. That is not a problem for me. The new chairs are solid, and a exact match to original in size and shape. These are great chairs!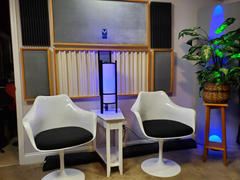 11/07/2019
Paula S.
United States
Thrilled with my 2 Tulip chairs
Had been looking for the perfect 2 chairs for my tiny studio. Wanted style, comfort and swivel - but not at the $2K price tag of original designer. These chairs are fantastic! Quick delivery, easy to put together. Great sturdy construction. Super comfortable for dining, lounging or working on computer. One of the chairs had a little squeak at first but the squeak disappeared after a couple of days.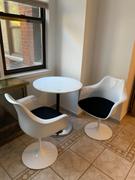 08/20/2020
Jose O.
United States
Amazing Tulip Chair reproduction, wish I would have measured
I love the chairs, I have three of them next to a competitor's version and a Tulip dining table and they're almost indistinguishable. I just wish I had made measurements because they're almost 2" taller and need to raise my Tulip table.
06/14/2020
Allyson g.
United States
Thrilled with my purchase and friendly service.
Excellent quality. Easy to assemble. Chairs feel solid and swivel smoothly. Beautiful.
12/29/2019
Jeanne C.
United States
Lovely Chair!
I received superior customer service, and the quality of my tulip chair is excellent!