Egg Chair
SHIPPING
Shipping cost is 10% of the product price
Learn More
Shipping Info
We offer shipping to the lower 48 states. Shipping cost is 10% of the product price.
RETURNS
Free 30-day returns
Learn More
Returns Info
We offer free 30-day returns to customers in the 48 contiguous United States. We created this policy as part of our ongoing effort to provide a hassle-free shopping experience, enabling you to transform your living space into your own personal showroom, and try your favorite design in the comfort of your own home before making a long-term commitment. Please note that not all products are eligible for free returns. To see whether a product is eligible go to the product details section of the product page.
WARRANTY
10 years warranty on all products
Learn More
Warranty Info
Every Interior Icons purchase is covered by our generous 10-year warranty. This warranty includes any defects or problems with our high-quality materials and any workmanship issues. Damage or problems from misuse, accidents, or wear and tear are not covered under our 10-year warranty.
The Finer Details
Easily one of the most iconic furniture contributions in design history, the Egg Chair is a stunningly distinctive seating solution first introduced by renowned Danish designer Arne Jacobsen in the late 1950s. The durable metal base rotates for ease of use and effortless adaptability. The upholstered shell and seat are curved for comfort and provide a luxurious seating experience. The chair was specifically created for the lobby of the SAS Royal Hotel in Copenhagen, a historic establishment that Jacobsen also designed.
This item is not manufactured by or affiliated with the original designer(s) and associated parties.
Product Dimensions:

H41.5 in x W34.6 in x D30.5 in

Product Weight:

49.6 lbs

Features:

The chair swivels and tilts back by 45 degrees with the tilt resistance adjusted using the lever at the bottom of the chair

Material:

Premium Italian Leather

SKU:

1007

Base Material:

Polished #304 grade stainless steel

Seat Height:

16.1 in

Assembly Requirements:

Partly assembled

Packaging Dimensions:

(55.1 lbs): 34.3 in x 33.9 in x 43.3 in

No. of Cartons:

1

Free Return Shipping:

No
Make a stylish statement
The Egg Chair has the ability to effortlessly elevate any space it graces. Add it to a living area or den for a touch of luxury and comfort.
A good egg
Famed for its unmatched comfortability and memorable aesthetic, the Egg Chair is recognized worldwide as an integral piece of design history.
Luxury that lasts
Our artisans take great care to perfect each and every Egg Chair they create. Handcrafted from the finest materials available and triple-checked for quality, rest assured that your Egg Chair(s) will arrive in pristine condition and last for years to come.
Interior Icons vs Traditional Retail
By cutting out the middle men and traditional 200-400% markup, we're able to offer you beautiful, lasting designer furniture at exceptional value.
Inspired by
Arne Jacobsen
Known as one of the leading figures of Danish Modern design, Arne Jacobsen changed interior design through the mid-20th century with his simple yet incredible chairs, lighting and other designs.
Like several of his other peers (such as Charles Eames and Eero Saarinen), Jacobsen studied and worked as both architect and furniture designer, with iconic designs in both fields. While his architectural achievements tended to span throughout his career, many of his most notable interior design accomplishments came in the second half of his career.
His career was sharply divided by the Second World War, where he fled to Sweden. Returning to Denmark soon after the war's end, he showed no signs of slowing down, with many of his best and most popular works conceived in the post-war era.
Creations like the Egg Chair, Swan Chair and the Drop Chair are unmistakably his, while the retro Series 7 Chair has remained in fashion for well over 50 years.
Customer Reviews
Customer Reviews
Write a Review
Ask a Question
04/14/2020
Bonnie G.
United States
Great looking chair!
This was our first big furniture purchase on line. However the cost and detail offered about this chair gave us confidence to purchase. We have loved this chair for many years but cost was prohibitive through DWR. Ordering was simple, delivery on time, no problems, both pieces, Including leather, arrived perfect! The chair and ottoman look great in our eclectic space. However, I wouldn't buy this chair for comfort. It is hard, minimal padding in the seat, if extra cushioning is option, take it! I just sit on a pillow. We love the look of the chAir and it appears to be faithfully reproduced. Thanks Interior Icons!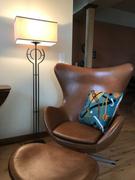 No flaws
This chair is darn near perfect. No flaws. Packaged well and delivered fairly quickly. I feel I got a good deal. I caught this on sale, which saved me quite a bit of money. A+ transaction.
Everyone loves it
Everyone in our house loves this chair. It's more comfortable than any of our other chairs or couches. Since we all fight over who's going to sit in it, I'm considering adding a second Egg Chair to our family room. We have the light grey version.
Loving my new chair
I live so far out in the country that no furniture store will deliver to my house. Since I drive a VW Beetle and I'm not willing to rent a truck, I've started ordering my furniture online. My new Egg Chair was delivered today, and I am in awe! I had no idea it would be so pretty in person. I sprung for the red premium leather, and it's absolutely gorgeous! I'm already loving my new chair. Thanks for the quick delivery!
Not as cushiony as I'd like
I love this chair, but I really like smooshy, cushy seats. I added a cushion for additional comfort and now it's pretty much perfect. I do wonder if I should have ordered the wool instead of the leather. Oh well. I'm happy overall.