Masters
SHIPPING
Shipping cost is 10% of the product price
Learn More
Shipping Info
We offer shipping to the lower 48 states. Shipping cost is 10% of the product price.
RETURNS
Free 30-day returns
Learn More
Returns Info
We offer free 30-day returns to customers in the 48 contiguous United States. We created this policy as part of our ongoing effort to provide a hassle-free shopping experience, enabling you to transform your living space into your own personal showroom, and try your favorite design in the comfort of your own home before making a long-term commitment. Please note that not all products are eligible for free returns. To see whether a product is eligible go to the product details section of the product page.
WARRANTY
10 years warranty
Learn More
Warranty Info
One of the reasons you might be shopping with us is that you recognise the superior quality of our pieces. And just as we want our furniture to be the best you can find, we want our promise to you to be equally superior. That's why, while most furniture manufacturers only offer a 1 year warranty, we offer a 10 year warranty. Please go to https://interioricons.com/pages/terms to read the full warranty policy.
The Finer Details
First introduced in 2010, this contemporary seating solution by French designer Philippe Starck is a compilation of impressive design features, all packed into one versatile chair. Molded from high-quality polypropylene, this design is durable and ideal for indoor or outdoor use.
This item is not manufactured by or affiliated with the original designer(s) and associated parties.
Product Dimensions:

H33.9 in x W21.7 in x D22 in

Product Weight:

9.9 lbs

Stackable:

Yes

Material:

Polypropylene

SKU:

1038

Base Material:

Polypropylene

Seat Height:

19.3 in

Armrest Height:

26.4 in

Assembly Requirements:

None required, it comes fully assembled

Packaging Dimensions:

(11 lbs): 23.2 in x 22 in x 35 in

No. of Cartons:

1

Free Return Shipping:

Yes
A modernist take on design
Combining several elements from beloved furniture innovators, Starck managed to create a modern masterpiece. This contemporary design is irrefutably stylish and edgy, both of which Starck has become known for.
Space-saving seating
Despite its roomy seat, this modern design is quite compact. In addition to being lightweight, the chairs are stackable up to four high, making them incredibly easy to stow.
Versatility meets longevity
Thanks to its versatility and durability, this chair is intended for everyday use. It's a hardwearing design that was created with longevity in mind.
Interior Icons vs Traditional Retail
By cutting out the middle men and traditional 200-400% markup, we're able to offer you beautiful, lasting designer furniture at exceptional value.
Inspired by
Philippe Starck
As one of the most original current designers, Phillippe Starck is known for his creativity and contributions to interior and architectural design. He has worked with manufacturers around the globe, producing innovative furniture pieces, decorations, home appliances, and even office supplies.
Starck has been internationally recognised for his works, receiving various awards including the Grand Prix National de la Création industrielle and the Honour Award of the American Institute of Architects.
The designer defines himself in a multitude of ways, dubbing himself "a Japanese architect, an American art director, a German industrial designer, a French artistic director and Italian furniture designer".
Starck doesn't take himself too seriously. He once said, "My best office is my bed."
Customer Reviews
Customer Reviews
Write a Review
Ask a Question
08/18/2020
ROBERTA A.
United States
05/12/2020
Michele W.
United States
A chair for those with long legs.
These chairs are truly a great value. They arrived in a reasonable amount of time and were in perfect condition. The design and materials met our needs well. However, my feet don't touch the floor, only my toes. Not only do I find it not a relaxing way to sit, it's not really good for my circulation. I will research ways to cut the plastic chair Legs off by 1.5 inches so I can enjoy them and my dinette again,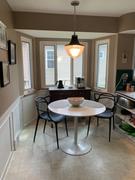 11/20/2020
Susan A.
United States
Fantastic!
Exactly as described. Love them and the price!
09/03/2020
Thomas K.
United States
Great value
The chairs arrived very quickly. In perfect condition. Very comfortable and the perfect addition to my project.
08/30/2020
Patricia P.
United States
Versatile and striking design
These chairs are light and easy to carry to move between indoor and outdoor uses. Quite comfortable. I was concerned about some reviews of it being too big for shorter people. But I am 5 feet and it seems about the same as most chairs. I like that they are unique in design but also easy to incorporate in most decor.