Shell
SHIPPING
Free shipping on every order
Learn More
Shipping Info
Free shipping will be automatically applied at checkout for customers in the 48 contiguous United States. Offering free shipping is just one of the many ways we make shopping for furniture and home accents enjoyable and hassle-free.
RETURNS
Free 30-day returns
Learn More
Returns Info
We offer free 30-day returns to customers in the 48 contiguous United States. We created this policy as part of our ongoing effort to provide a hassle-free shopping experience, enabling you to transform your living space into your own personal showroom, and try your favorite design in the comfort of your own home before making a long-term commitment. Please note that not all products are eligible for free returns. To see whether a product is eligible go to the product details section of the product page.
WARRANTY
10 years warranty on all products
Learn More
Warranty Info
Every Interior Icons purchase is covered by our generous 10-year warranty. This warranty includes any defects or problems with our high-quality materials and any workmanship issues. Damage or problems from misuse, accidents, or wear and tear are not covered under our 10-year warranty.
The Finer Details
First introduced by famed Danish designer Hans J. Wegner in the early 1960s, the Shell Lounge Chair is a whimsical seating solution that didn't garner the praise and appreciation it truly deserved until the design was rereleased more than 30 years later. The chair is expertly curved for style and comfort, making it an ideal piece of furniture for the style-conscious home or business. We invite you to mix and match our Wegner pieces, as well as our other designer items, to create your stylish space.
This item is not manufactured by or affiliated with the original designer(s) and associated parties.
Product Dimensions:

H29.5 in x W29.1 in x D35 in

Product Weight:

46.1 lbs

Material:

Black premium Italian leather

SKU:

1015

Base Material:

Plywood

Seat Height:

14.6 in

Assembly Requirements:

One person assembly

Packaging Dimensions:

(51.1 lbs): 36.6 in x 32.3 in x 30.7 in

No. of Cartons:

1

Free Return Shipping:

No
A unique design ahead of its time
The CH07 Shell Lounge Chair combines contemporary elements with a futuristic aesthetic. A trio of sleek, hardwearing legs serve as a base for the seemingly weightless, curved seat.
Luxurious seating for a home, office and beyond
With its distinctive curves and timeless charm, the CH07 Lounge Chair simply never goes out of style. It's the perfect seating solution for a stylish home, office or commercial space. As its name implies, it is the perfect addition to an upscale lounge.
Quality craftsmanship
As with all of our designer pieces, our CH07 Lounge Chair is built to last, constructed from only the finest materials and quality tested for durability and longevity.
Interior Icons vs Traditional Retail
By cutting out the middle men and traditional 200-400% markup, we're able to offer you beautiful, lasting designer furniture at exceptional value.
Inspired by
Hans J. Wegner
Known as the "Master of Chairs", Hans Wegner was one of the most influential and leading figures around interior design through the 1940s to 1960s. His most iconic and recognisable work is often to be considered what's simply called "The Chair". When used in the 1960 US election debate between Kennedy and Nixon, the Chair's (and Wegner's) fame exploded.
It was far from his only work. Throughout his life, Wegner designed over 500 chairs, with 100 of those going into mass production. Combining a prolific productivity with an unmistakable eye for interior design, some of Wegner's other best-known works included the Ox Chair, the Wing Chair and the Shell Chair.
Given the opportunity early in his career to work for Arne Jacobsen, Wegner was able to refine his skills under another of Denmark's leading designers. His talent was undeniable, and after several years he established his own workshop and started designing his "Chinese" chairs, which would lead to another of his most popular pieces, the Wishbone Chair.
Customer Reviews
Customer Reviews
Write a Review
Ask a Question
04/20/2020
Nicole K.
United States
Love the Chair BUT received with Damages...
I love the design of the chair; however, I ordered two and one was received with damages to the back leg. The wood is layered and there is no protective seal on the base of each leg which allows for the wood to easily peel/chip. Once that issue is addressed - I think the product will be brilliant.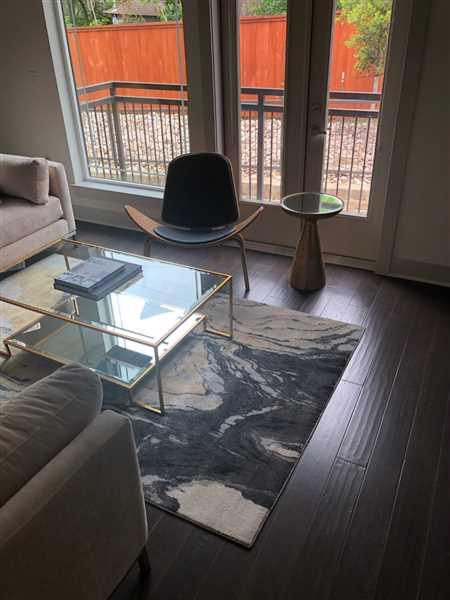 Bought as a gift for my son
I have no complaints about this transaction. I gifted this chair to my oldest son, and he said it's very comfortable and practical for his workspace.
Dad loves his chair
I ordered this chair for my aging father. He has difficulty getting up from a recliner. He's very happy with his new chair as well as the lamp and ottoman I ordered him.
Comfortable seating
This is a pretty fantastic chair for the price. Wegner's designs are so unique. I'm single, but I'm going to order another chair so when friends stop by, they will have a comfortable place to sit. Awesome buy!
Stunning furniture
The oak wood chair combined with the black upholstery is simply stunning together. Uniquely designed chair with a vintage vibe, but it looks good in a modern apartment.