Mouille Ceiling
SHIPPING
Shipping cost is 10% of the product price
Learn More
Shipping Info
We offer shipping to the lower 48 states. Shipping cost is 10% of the product price.
RETURNS
Free 30-day returns
Learn More
Returns Info
We offer free 30-day returns to customers in the 48 contiguous United States. We created this policy as part of our ongoing effort to provide a hassle-free shopping experience, enabling you to transform your living space into your own personal showroom, and try your favorite design in the comfort of your own home before making a long-term commitment. Please note that not all products are eligible for free returns. To see whether a product is eligible go to the product details section of the product page.
WARRANTY
10 years warranty
Learn More
Warranty Info
One of the reasons you might be shopping with us is that you recognise the superior quality of our pieces. And just as we want our furniture to be the best you can find, we want our promise to you to be equally superior. That's why, while most furniture manufacturers only offer a 1 year warranty, we offer a 10 year warranty. Please go to https://interioricons.com/pages/terms to read the full warranty policy.
The Finer Details
French designer Mouille created this iconic three-armed lamp in the late 1950s. Utilizing hardwearing iron, and constructing rotating shades for customized light, the designer broke the mold, making way for a brand new era of aesthetically exquisite, functional lighting designs.
This item is not manufactured by or affiliated with the original designer(s) and associated parties.
Product Dimensions:

H23.6 in x W82.8 in x D65 in (Arm length: 33.6 in, 43.6 in, 53.7 in, lamp shade opening diameter is approximately 10 in)

Product Weight:

10 lbs

Material:

Powder coated #304 grade stainless steel

SKU:

1093

Base Material:

The drop dimension of the centre spokes is 15.7 in

Bulb Base:

E26

Bulb Included:

No

Max. Bulb Watt:

Single 40W incandescent bulb or equivalent LED

Voltage:

110v or 230v or Low Voltage compatible

Assembly Requirements:

Partly assembled

Installation Details:

The ceiling rose is 4.3 in diameter and 1.9 in tall

Instructions Included:

Yes

Certifications:

UL Certified

Packaging Dimensions:

(14 lbs): 56.3 in x 17.7 in x 8.7 in

No. of Cartons:

1

Free Return Shipping:

Yes
Illumination right where you need it
Thanks to its trio of adjustable arms, the MCL-R3 Style Contemporary Pendant Lamp is easily adapted to shine light precisely where you need it.
Interior Icons vs Traditional Retail
By cutting out the middle men and traditional 200-400% markup, we're able to offer you beautiful, lasting designer furniture at exceptional value.
Inspired by
Serge Mouille
It didn't take long for French industrialist and silversmith Serge Mouille to make his mark on the lighting world. The highly-skilled designer is known for his passion in metal work and lighting. He became famous for creating modern lighting fixtures.
Mouille's dual interests helped in his design process. His metalwork skills are apparent in every piece he created.
As a 13-year-old, Mouille studied at the School of Applied Arts' silver workshop. As the youngest student, sculptor Gabriel Lacroix became his mentor and teacher.
It was immediately evident that Mouille was gifted in his chosen field. Just four years after graduating, he began teaching at the arts school in which he was taught. In addition to mentoring and teaching, he opened a workshop which focused on wall sconces, handrails, and chandeliers. He would later go on to design elaborate floor lamps and wall-mounted pieces. He was especially inspired to create based on the female form.
Mouille's designs were well-received. His lighting fixtures were showcased alongside the works of Jean Prouvé, Charlotte Perriand, and Isamu Noguchi. It was in the mid-1950s that American film star Henry Fonda attended Mouille's workshop intent on having a lamp designed especially for him. That lamp became the first of Mouille's designs to reach America, but it certainly wasn't the last.
Among the designer's most famous contributions are his Contemporary Pendant Lamp, the MFL-3 Style Contemporary Floor Lamp, the MCL-R6 Style Contemporary Pendant Lamp, and the MSC-R2 Style Contemporary Wall Lamp.
When it came to designing, Mouille gleaned inspiration from his chosen supplies. "The form is always determined by the material," he said.
Customer Reviews
Customer Reviews
Write a Review
Ask a Question
Filter Reviews:
plastics mollies
something
center
text
instructions
diagrams
06/21/2020
Alejandro P.
United States
06/16/2020
Paul M.
United States
06/05/2020
Catherine R.
United States
I love this ceiling lamp!
I love this ceiling lamp! We have an open concept living room / kitchen and it absolutely makes the space. Great value for the price. Pay attention to the shipping window and the measurements, as it's quite large. I also recommend having it professionally installed, but it was easy for our electrician.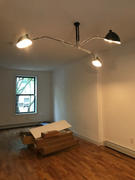 03/27/2020
Dora M.
United States
11/12/2020
Christopher M.
United States
The light is very nice ... but
But the instructions for mounting it were just silly. Totally unclear, a few diagrams without text to explain them. I wasn't really sure whether to mount the arms first and then mount it , which seemed like it would be too awkward, or mount the center and then mount the arms. There were also a few plastics mollies and I never figured out what they were for. We figured it out but that seems like something you could improve easily. Thanks